The history of the Garbage Bowl
Original Garbage Bowl player visits
Courtesy of the Montreal West Informer
By David Watson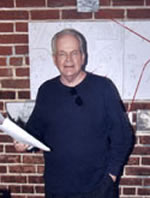 On Sunday, October 3, Lloyd Johnston, accompanied by resident Judy Buzzell, visited the Town Museum while in town from Vancouver.
Lloyd and some of his classmates from MW High School organized and played the first Garbage Bowl game on New Year's Day 1950.
Lloyd's sister Heather went to the Hardware Store where Mr. Otter gave her a shiny new garbage can in which she collected money from the spectators. She later went into the Curling Club which caused a commotion: here was a young woman with a garbage can in a gentlemen's only club!
When she explained her mission, she caught the attention of Willard Mace, and executive of The Sun Life Insurance Company, and George Ganetakos, President of United Amusement Corporation, who became generous supporters of the cause. Dr. L.T. Patterson, Director of the MacKay Centre was another early sponsor.
2005-01-28 15:42:58