GARBAGE BOWL '96
By Richard Goss
Suburban Staff
The Northern Combines and Southern Bombers met under sunny skies Monday for the annual Garbage Bowl, the Montreal West football classic that's been entertaining the locals every New Year's Day since 1950.
"This is one of the main events in Montreal West," said Barry Stevens, who has helped to organize the Garbage Bowl for the past 14 years. "People really look forward to this. It's one, of the highlights of the holiday season. There may be a lot of other events held here, but this is the big one."
About 400 fans braved frosty January temperatures to watch the good-natured competition between rival neighhourhoods from north and south of the CPR tracks. In the end, it was the Southern Bombers who emerged victorious, beating their northern counterparts 16-7 and improving their overall record to 25-17. The teams have tied five times.
The south's Glen Miller was awarded the game's MVP,while the north's Sean Foley received the Art 'Catalsamo Rookie award, awarded for the first time this year in honour of Art Catalsamo, a long-time Garbage Bowl participant who passed away last year.
Offensive MVP awards went to Jamie Crawford from the south and Patrice Bayne from the north, while the south's Dave Taylor and the north's Dean Martinez were awarded the game's defensive MVPs.
The Garbage Bowl first began when a group of friends from the old Montreal West High School decided to do a spoof on American college bowl games. The game's unusual name derived from the fact that each team, for lack of proper goalposts, had to throw the football into a garbage can in the opposing team's end zone to score a convert.
However, because the first game was such an unexpected success, organizers soon got the idea to hold the game once a year as a fund-raising event for children's charities.
Last year, more than $10,000 was raised for St. Justine's Hospital, the Missing Children's Network, the Starlight Foundation, the Children's Wish Foundation, the Lamp Lighter Foundation and the Mackay Centre for Deaf and Crippled Children, a beneficiary of the game since 1952. Organizers predicted similar results for this year
"For me, the best part of the Garbage Bowl is the fact that we're able to collect so much money for
Please see page A-9
Since 1950, New Year's football game has been mingling fun with fund-raising for children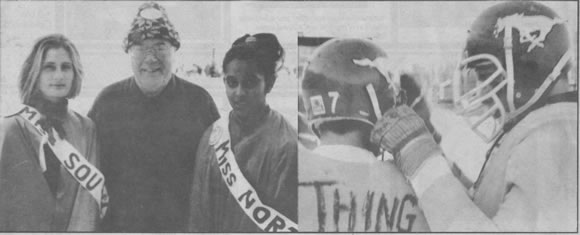 Right photo: Northern Combines player Sean Foley adjusts the chinstrap of teammate Max, during a break in the annual Garbage Bowl Monday. The Combines lost 16-7 to their rivals, the Southern Bombers, although Mr. Foley compensated in part by winning Rookie of the Game honours. Left photo: Montreal West mayor John Simms poses with Miss South Irene Antypas and Miss North Aveena Rambox. Richard Goss Photos

(page A-9)

Bowl helping kids since 1950
Cont'd from page A-1
children," said Marnie Dickson Telfer, who has helped organize the event for the past 10 years. "It's quite gratifying to raise $10,000 for kids."
Montreal West mayor John Simms recalls that the Garbage Bowl's evolution wasn't always smooth. In 1957, he says it was close to folding due to lack of sponsors.
"Things were at a low ebb,' the mayor said. Today, the Garbage Bowl 's evolution into a fun-loving fundraiser is what the mayor says he likes best about it.
"The Garbage Bowl has a very strong appeal here, particularly for families. People of all ages come here, often from other cities or provinces, just to see their friends and watch the game. It's a part of our heritage," he said.
Mrs. Telfer agreed.
"It's really an important event in our community," she said. "It's been going on for so long, and everybody knows about it and looks forward to it."
There was also a changing of the guard this year with many longtime Garbage Bowl players stepping down and passing the torch to the next generation.
"It hurt a lot to retire," said Brian Stafford, a north- side veteran of 13 years. "But we had to do it so the younger guys could play."
Tom Norwell, a 20-year veteran of the south, as another reluctant retiree who watched the game from the sidelines.
"It's terrible watching this game and not being able to play. It hurts worse than the physical pain you feel the day after the game," he said.
Mr. Norwell "almost drowned" under a stack of bodies.
"My friend and I were at the bottom of this pile of players, and because the ground was soft and the weather was mild, there were puddles all over the field:' Mr. Norwell said. "So we suddenly found ourselves pinned face down in a puddle, and nobody seemed to be moving. It was pretty scary."
However, as these guys also recalled, soft ground is typically more blessing than curse. One year, the ground had frozen the week before the game just after some soccer players had used the field, and the upturned mud created frozen hard ridges across the field.
"I think that was one of the hardest games to play in," said Mr. Norwell. "There were all these little holes and dents all over the field, and if you landed on one of them, it hurt a lot."
Still, if there's a down side to playing in the Garbage Bowl, you'd never know it from listening to these guys. They continually talked and argued about who did what and when, and despite their occasional lamentations, it was clear they enjoyed being a part of the historic game. "You can't imagine what it's like not to play in this,' said 22 year veteran Colin Telfer. "It's hard not playing, but I've got a lot of great memories."